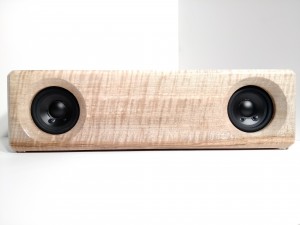 The body of this speaker is shaped from two pieces of solid, fiddle back Red Maple.
-High quality 2-3/4″ full range drivers are built into fully independent sound chambers for a rich stereo experience that is surprisingly full from a portable speaker.
-Rechargeable 5Ah lithium ion battery provides plenty of play time through the high efficiency amplifier. Battery is easily charged from nearly any USB port or with the included AC adapter.
-Easily connect your Bluetooth capable audio source for a fully wireless listening experience or simply use the 3.5mm input jack.
-Volume knob, input jack, Bluetooth power switch and USB charging jack are securely mounted to a machined aluminum panel on back of speaker for a secure, durable construction and clean aesthetics.
-Charge indicator light and Bluetooth status indication are flush built into the body on the rear of the speaker above the components panel to allow for clean, simple aesthetic on the front of the piece to take full advantage of the beauty of the wood without the distraction of blinking lights, knobs, jacks and screws.
Speaker comes ready to listen. Battery is charged and everything comes with the speaker.
Contents: 1 Main Speaker Unit, 1 standard 1/8″ stereo cable, 1 USB cable, 1 USB AC adapter for 120V wall outlets.
Speaker is 16″ long, 4.5″ tall and 4.5″ deep.