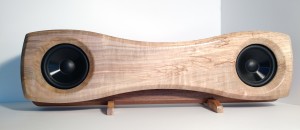 The main body and feet on this speaker are shaped from solid, figured Red Maple with a Black Walnut cross member.
-High quality 4″ full range drivers are built into fully independent sound chambers for a rich stereo experience.
-Powered with standard 120v outlet. (cord included)
-Easily connect your Bluetooth v4.0 capable audio source or use the standard 3.5mm audio jack for wired listening.
-Bluetooth status indication glows from under the main body, flashing while Bluetooth is searching and solid when connected.
Overall dimensions are 24″ long, 7.25″ tall and 6.5″ deep.
Main body is 6.25″ tall and 5.5″ deep.
Shipping weight is approximately 16lbs.