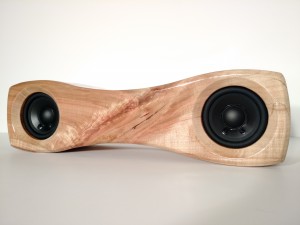 The body of this speaker is shaped from two solid pieces of figured Red Maple.  This one has a beautiful, highly figured knot right in the middle of the front piece.
This is not a novelty speaker with wood case.  Each piece of wood is CNC machined to optimize the sound quality and showcase the natural beauty that cannot be produced in a conventional factory.
-High quality 2-3/4″ full range drivers are built into fully independent sound chambers for a rich stereo experience that is surprisingly full from a portable speaker.
-Rechargeable 20whr lithium ion battery provides plenty of play time.  Battery is easily charged from nearly any USB port or with the included AC adapter.
-Easily connect your Bluetooth v4.0 capable audio source for a fully wireless listening experience with a range of up to 100′.  Or simply use the 3.5mm input jack and included cable to connect anything that can use conventional stereo headphones.
-Volume knob, input jack, Bluetooth power switch and USB charging jack are securely mounted to a custom machined aluminum panel on back of the speaker for secure, durable construction and clean aesthetics.
-Charge indicator light and Bluetooth status indication are flush built into the body on the rear of the speaker above the components panel to allow for clean, simple aesthetic on the front of the piece.
Comes ready to listen with the battery charged and components included.
Contents: 1 Main Speaker Unit, 1 standard 1/8″ stereo cable, 1 USB cable, 1 USB AC adapter for 120V wall outlets.
Speaker is 15″ long, 4″ tall, 4″ deep and weighs 4.5lbs.