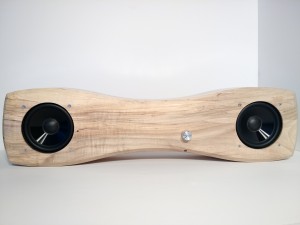 The body of this speaker is shaped from two solid pieces of figured Red Maple rescued while cutting firewood at a local friend's family farmhouse outside of town.
Music from this speaker easily fills a good sized living room with clean, full sound that isn't strained even at full volume; but is articulate enough to listen to very quietly for intimate dinners or at the office.
The class-T, audiophile grade amplifier, isolation transformers and high quality 4″ full range drivers that are rear mounted with stainless steel screws into fully independent sound chambers for a rich stereo experience.
Easily connect your Bluetooth v4.0 capable audio source for a fully wireless listening experience.
Solid aluminum, minimalist volume knob is accessible on the front of the speaker.  The status indication light is flush built into the bevel below the volume knob while the power switch is cleanly mounted on underside of curve in the middle of the speaker.  Placement makes it simple to use while providing a clean look all around.
Contents:   Main Speaker Unit, 3.5mm  stereo cable and Power Supply for 120v wall outlet.
Speaker is 24″ wide , 6.25″ tall and 4.25″ deep and weighs 12lbs.